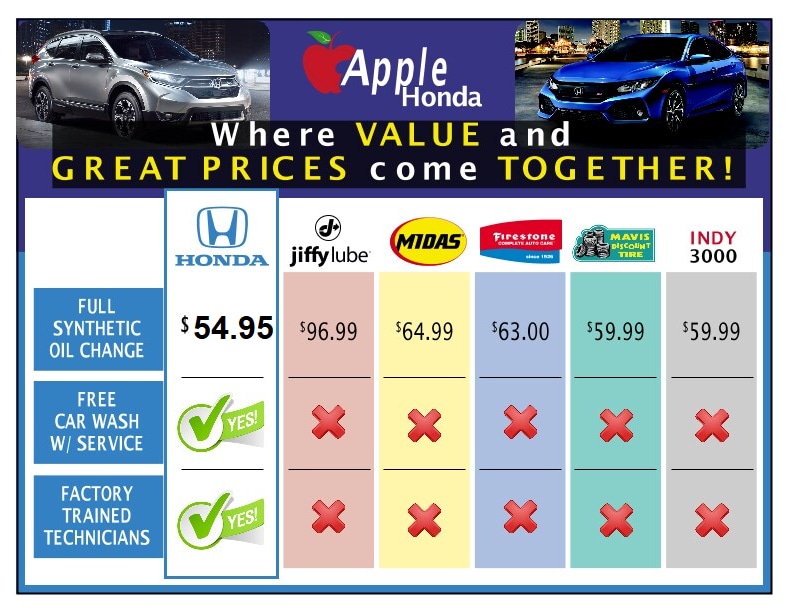 Schedule Service
The Importance of an Oil Change
Engines are built of a number of moving pistons, valves, and other parts that work tirelessly to get you from point A to point B, and without the proper lubrication, an excess of friction can be created, which could eventually result in a dramatically worn-down or overheated motor. 
On top of that, engine oil and oil filters remove any potentially harmful wear particles and sludge that can be deadly to an engine that over time, can cause extreme corrosion and drastically decreased lifespans for your motor. Luckily for you, a routine oil and filter change from Apple Honda will go a long way in keeping your vehicle operating at peak potential!
How Often Does my Vehicle Need an Oil Change?
The longevity of your engine oil depends on many different variables, including the vehicle you drive and how much you drive it, the type of oil that you used in your previous oil change, and many additional factors. Most professionals recommend an oil change every 3,000 miles or three months, whichever comes first, but newer vehicles usually only require an oil change every 6,000 miles or six months. Every model is unique and utilizes its motor oil in different ways so it's important to know when it's time for a service. 
Oil changes are inexpensive, take no time at all, and are ultimately the most important thing you can do to guarantee that your beloved vehicle continues running properly for years to come. Ensuring that you have the proper quality and level of oil is crucial, so leave that up to us, at Apple Honda in Riverhead, NY.
Schedule Your Next Oil Change in Riverhead, NY
Simply contact us online or schedule a service appointment with us to allow our professionals to make sure your vehicle is equipped with not only clean engine oil, but the proper amount of it! We conveniently serve the Riverhead area, as well as Manorville, Hampton Bays, and Wading River motorists!
Schedule Service
Make an Inquiry
Hours
Monday

7:30am - 6:00pm

Tuesday

7:30am - 6:00pm

Wednesday

7:30am - 6:00pm

Thursday

7:30am - 6:00pm

Friday

7:30am - 6:00pm

Saturday

7:30am - 6:00pm

Sunday

11:00am - 4:00pm