The car industry is a competitive one, and at Apple Honda we believe in working hard to win your business. We aim to do this not only with great prices, but also perks that set us apart from the other dealerships in the area! While this isn't an exhaustive list, here are 5 great reasons to consider buying a car from us here at Apple Honda.
1.) Apple Honda Advantage
Buying a car is a big financial decision, even with a great deal! We want customers to feel like they're getting more than a new vehicle to drive away in. Free safety checks, complimentary car washes, and unique "on us" services only scratch the surface of what you'll get with our Apple Honda Advantage Program.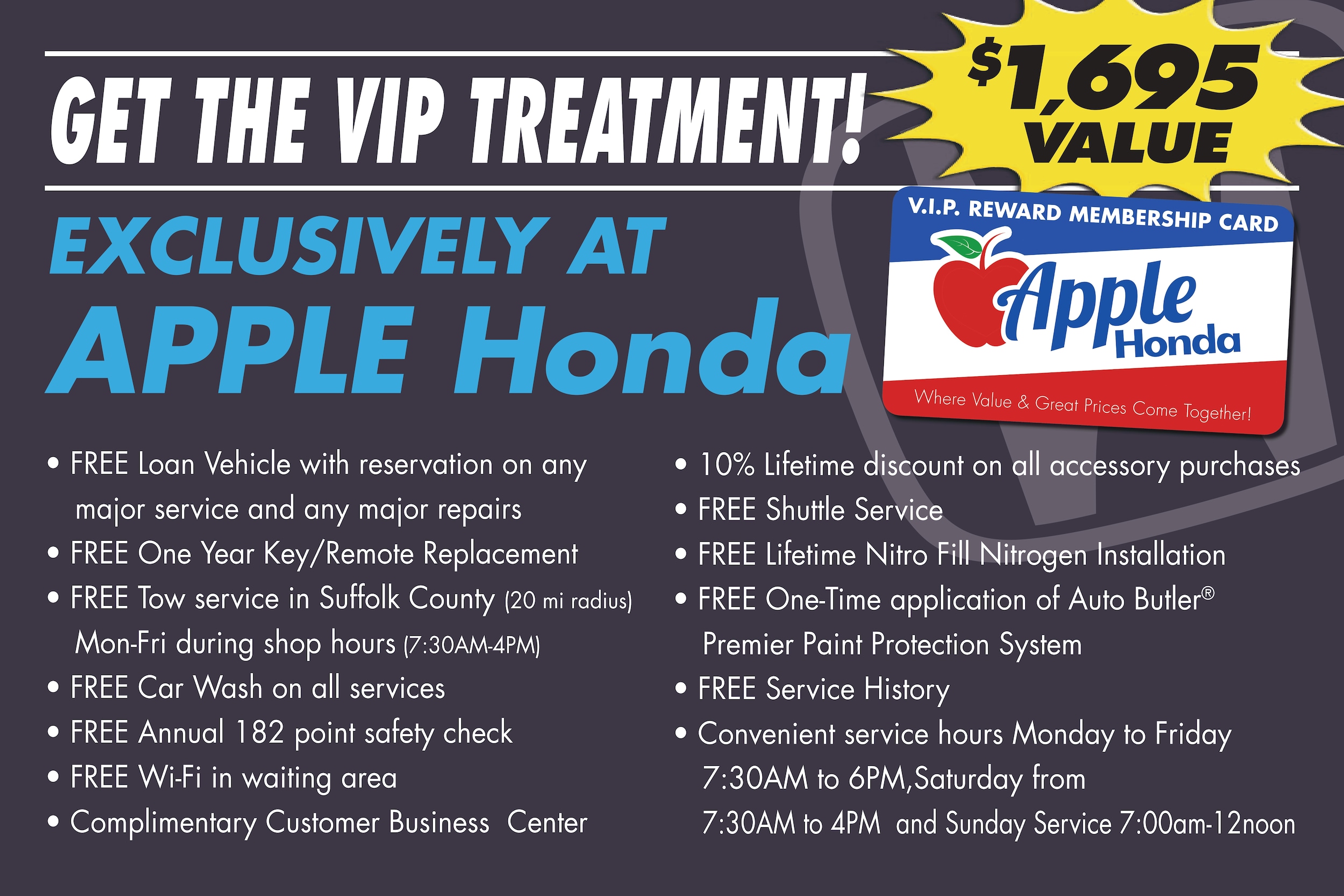 2.) We offer Apple Certified Honda Vehicles
Drivers young and old love the added peace of mind with a Certified Pre-Owned Honda vehicle. No stone is left unturned when trained techs look over pre-owned Honda's to see if they're qualified to earn the title & added powertrain warranty. We take it a step further by tacking on the Apple Honda VIP Membership for free!
3.) We Detail Vehicles

Think vehicle detailing is only for the luxury brands of the world? Think again! We know that even non-German vehicle drivers want a car that looks great inside and out. We have a comprehensive list of detailing services that will have everyone turning heads & asking where you go. We do tasks as small as $5 tire shines to larger pet hair removal services. Best of all: it's on-site! Click here to see all our packages.
4.) We Love Out-Of-Staters
We'll be the first to say that New York is the best state in the country! ;) That being said, we love our friends from the other 49 and truly believe in making it easy to buy a car from us if you aren't from NY. We'll take care of DMV paperwork, inspections, and help make purchasing a vehicle a same day experience. Click here to learn more about our Out-Of-State Purchasing perks.
5.) Commitment to Veterans
At Honda we are committed to our veterans who've made huge sacrifices for our country. We're proud to employ veterans from a variety of military branches, and if you'd like to work with them while shopping for a new Honda or used vehicle let us know! And don't forget to ask about Honda's Military Appreciation Program.
 
Eric Nichols- U.S. Navy

 

  


      Mike Wilson- U.S. Navy

  

We could come up with a few more reasons to stop in at Apple Honda, but we think 5 is a great start. We look forward to meeting you- have a great day!