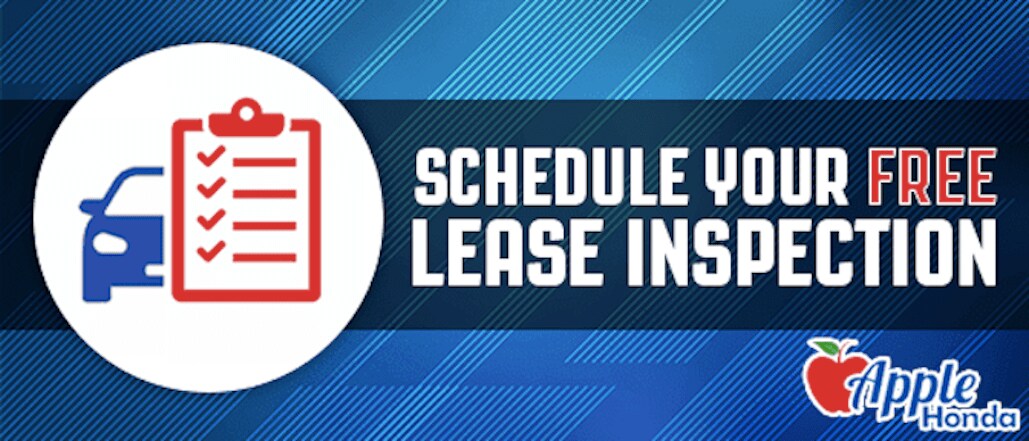 Lease Return Options at Apple Honda
Is your vehicle lease nearing an end? While you may think that the lease-end process is confusing and tedious, our professionals here at Apple Honda near Manorville simplify the process and ensure it goes smoothly. Whether you're returning your vehicle and moving on to a new Honda model, buying your lease out, or just looking to turn it in, we're here to help. 
How Can I Get My Honda Lease-End Process Started?
If you've made your way to this page it's likely that your lease is ending sooner rather than later but for future reference and future leases, you can actually start preparing for your lease-end process up to 12 months from your maturity date. If you have yet to prepare, however, there's no need to worry, we'll help you weigh out your options and figure out what's best for you. Once your lease is up, our dealer offers three simple options for you to choose from: 
Option One: Find A New Vehicle To Lease
Congratulations on completing your lease term! You're now eligible to upgrade to a newer model! The professionals here at our Manorville area dealer make the transition from your old lease to your new one simple and timeless so be sure to schedule an appointment to test drive select models so you know exactly which vehicle you would like to be your next daily driver! 
Option Two: Buying Out Your Honda Lease
We sure hope you enjoyed the lease period with your current Honda so if you would like, you have the option to buy it out and continue the journey that you have started in your beloved vehicle. If you're interested in hearing a lease-purchase price for your vehicle, contact Apple Honda near Manorville dealer! 
Option Three: Return Your Honda Lease 
If your lease is ending and you're not ready to lease or buy a new Honda or buyout your leased vehicle, you can return it to Apple Honda. Before you return your vehicle though, we recommend scheduling a pre-return inspection at our dealer, ensuring that you're not charged any additional fees for unknown damage or excess wear to your vehicle. 
If you are returning your lease, you'll want to make sure you bring the following: 
Any keys you have for the vehicle
The owner's manual and all service records
Vehicle inspection report
Receipts for completed repairs
We're hoping that you elect to stay with us at Apple Honda and lease or purchase your next vehicle at our dealer near Manorville but if not, we respect your decision and wish you luck finding your next vehicle. If you have any further questions about the lease-end process, please don't hesitate to contact us at Apple Honda. 
Avoid Out-Of-Pocket Expenses by Scheduling Your Lease-End Inspection
You may not remember but the lease agreement that you agreed to sign way-back-when indicates that the lessee is responsible to pay for any excess mileage used during the term of a lease. Lessees are also responsible for "excess wear beyond the minor wear reasonably expected to result from ordinary use of the vehicle." 
To avoid any additional out-of-pocket lease-end charges, simply schedule your required lease return inspection today for a complimentary report on the wear and tear -- or lack thereof -- on your vehicle.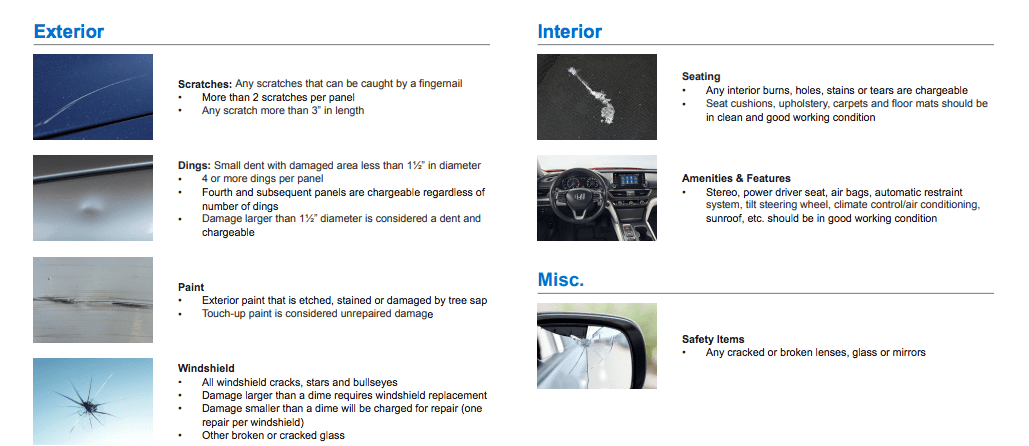 Excess Wear & Tear That You Could Be Charged For
Excess wear & tear such as body dents, road damage, dings, and scratches
Windshield replacement
Vehicle modifications such as tinting, added or removed parts, added or removed OEM equipment
Excess tire wear
Maintenance such as check engine lights, scheduled maintenance, mechanical or electrical malfunction, outstanding open recalls
Your Manorville Area Honda Lease Return Inspection Location 
Schedule your lease return inspection at Apple Honda! If you have any questions feel free to contact our team of professionals who are here to help! We are conveniently located just down the street from Riverhead High School off of Route 25.
Contact Apple Honda to Schedule an Inspection
Here at Apple Honda, we hate to see our customers have to break the bank for vehicle returns, so be sure to schedule a Honda lease-end inspection appointment by calling (631) 727-0555!