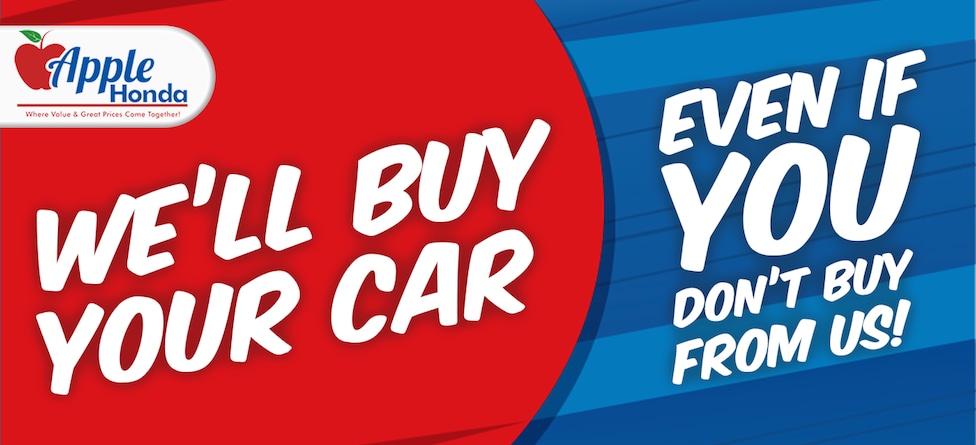 How Much Is Your Car Worth?
Selling your used vehicle has never been easier; the team at Apple Honda will buy your ride, whether you plan to trade-in your car or just sell and be on your way! We will gladly take your used car off of your hands, giving you the best possible deal. Rather than dealing with a private buyer, selling to our Manorville area Honda dealership has unique advantages. Take a look at just some of the many reasons you should stop by for a quote today!
Why Should I Sell My Used Car to Apple Honda?
Speed and Convenience - Selling to our Honda dealer near Manorville is the fastest way to get your vehicle sold and money in your pocket. Don't worry about going back and forth with a private buyer; simply visit Apple Honda and we will use our Advanced Auction Software to get you a deal on your car in 30 minutes or less! We know that your time is valuable, which is why we seek to simplify the process of selling your car. 
Simplicity - We will handle any paperwork associated with the sale, meaning that you won't have to worry about title transfers or a bill of sale. Simply sign your name, collect your payout, and be on your way! If you want to put the value from your current vehicle towards a new Honda model, our experts can help you with that as well. Apple Honda is your one-stop-shop for all of your selling and buying needs. 
Trust - When you sell with Apple Honda, you can feel confident that you are no longer responsible for your vehicle. Private buyers can sometimes be deceitful, whether it be through payment scams or post-sale lawsuits in the event they believe you should be liable for vehicle problems. 
Get a Tax Break - When you sell your car as a trade-in in New York, you are also entitled to a tax deduction from your new purchase. For example, if you buy a vehicle for $32,000 and trade in your car for $8,500, you will only be required to pay taxes on $23,500. 
Stop By Our Manorville Area Honda Dealer Today
Selling to our Honda dealership is not only easier and more convenient, but it is also the most secure and economical route. Whether you are looking to trade-in or just sell your used car, dealing with Apple Honda removes the hassle associated with selling, as we oversee all of the paperwork. 
For more information about the services we provide at Apple Honda, don't hesitate to contact us today. To get one step ahead, make sure to fill out our online Value Your Trade tool so you can know what you to expect when you come out for a visit!
How Much Is Your Car Worth?